Wilderness RV Resorts At Silver Springs
Location
Traveling along Highway 40 of Central Florida, RV enthusiasts and road-warriors of all types will find a unique roadside retreat fashioned as a national park, motor court, and welcome center known as "Wilderness RV Resorts At Silver Springs." Learn More >>
Overview of Improvements
Features
Please refer to the park map for locations of the different sections of the park.
restoration of the roads serving the current 412 lots
Beautification of nature trails through wooded areas
added club house and pool to the recently completed lots in the north section
new landscaping and sod for all sections of the park

Recreation and Amenities
True RV Resort
If you ever visited the RV Park in the past you will remember the four log cabins, adjacent to the pool area, used as rentals. Learn More >>
Directions to Park
Location
Find out how to get to Wilderness RV Resorts At Silver Springs from major interstates in Florida. Learn More >>
Rates and Reservations
Low rates
Whether searching for a purchase or lease at our beautiful property we know you'll find a unique, natural setting of considerable value compared to your other options. Learn More >>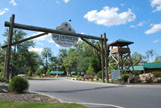 "As "RVers" already know, the RV lifestyle provides an opportunity for people to simplify their lives, connect with their families and, find new freedom while conveniently and comfortably experiencing the lure of the outdoors.
-David Woodworth
RV Historian